The danger of the Advent wreath and Christmas lights, what measures to take and how to prevent a fire.
The Advent wreath that adorns our tables these days brings with it a potential danger. Since every Advent wreath consists of candles and easily flammable materials with which we decorate them, unwanted consequences, i.e. fires, can occur at any time. Therefore, it is very important to always be vigilant while you have a source of open flame in your homes.
During the Christmas and New Year holidays, in addition to Advent wreaths and candles, we should also pay attention to the use of lights with which we decorate our pine trees and homes. All of the above should never be left unattended. Care should also be taken when using electrical equipment and extension cables. Before use, check the lamps and extension cables for damage that could lead to short circuit, overheating, electric shock and fire.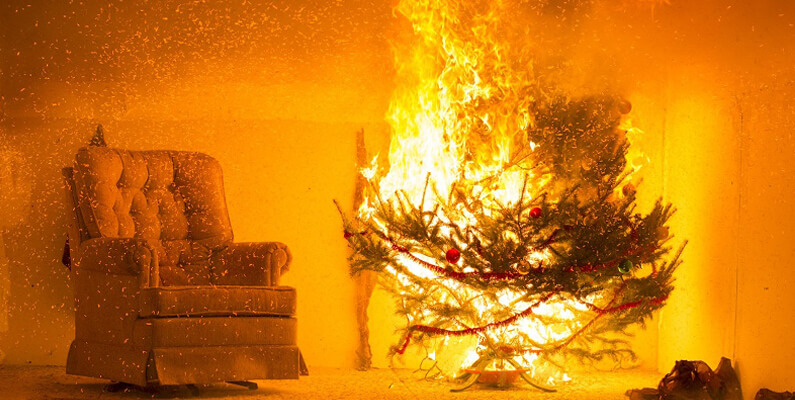 We recommend that you pay attention to what objects are near your Advent wreath, because they most often burn as well as the base on which your Advent wreath or candle is placed. Take care that they do not heat up and eventually catch fire (eg: curtains, tablecloth, carpet and various items).
In the event of a fire, it is necessary to extinguish it immediately with water or a fire extinguisher (fire in the initial phase) and call the firefighters. In the event that the fire is already in the raging stage and has completely engulfed the space, call the fire brigade and evacuate together with the householders outside the building and to a safe distance. If you notice that there is smoke from decorations that are plugged in (pine lamps, adapters, etc.), they should be turned off immediately and put away safely so that they do not ignite other nearby objects due to their heat.
We recommend that you never leave candles unattended, and turn off any decorations that are plugged in before leaving your home or going to sleep. And we remind you of the golden rule that applies in firefighting:
"Most fires are extinguished in the first minute with a glass of water. In the second minute, a bowl of water and the help of another person are needed. An organized and trained fire department is needed for a fire in the third minute."
We wish you to spend the Christmas and New Year holidays in peace, health and joy!