Firefighting is not a profession, but a way of life.
People who risk their lives every day around the world to save others are of a special caliber.
In the fight against fire and other dangers, these people create a community stronger than any steel ties. Many destinies and lives often depend on this communion.
Firefighters in Croatia have created a community of sincere friendship, sacrifice and solidarity. "Vatropromet" has been trying for many years to be a part of that unbreakable community, to which neither fire nor water can do anything. With what success, only firefighters who belong to that community can know that.
In order to be as accessible as possible to our friends, partners and customers, we have opened business centers throughout the Republic of Croatia. So you can find us in: Osijek, Zagreb, Rijeka and Split and one business center is located in Bosnia and Herzegovina (Banja Luka).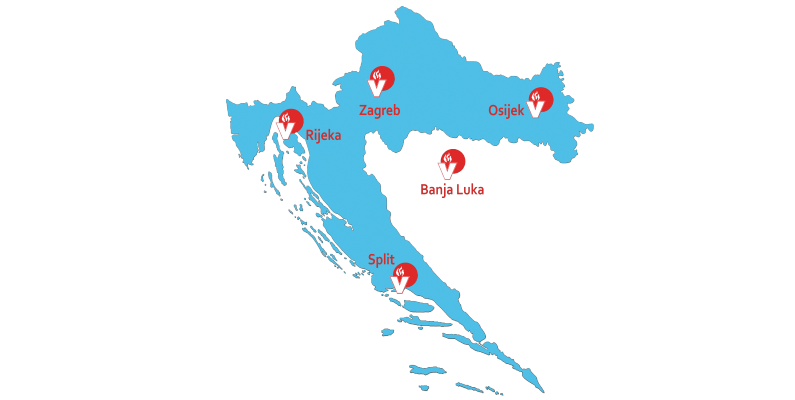 Service
In addition to dealing with wholesale and retail of firefighting and protective equipment, in 2016 we expanded our offer to service fire extinguishers, firefighting and related equipment.
Our service offer includes:
service of fire extinguishers
service of breathing apparatus "Interspiro"
service of pumps and high-pressure modules
rescue and hydraulic equipment service "Holmatro"
Sale
On the 2nd floor of the sales center and the company's headquarters in Zagreb at Ježdovečka 87, firefighters can find the largest stock of firefighting and protective equipment and view the entire range in the most modern salon of firefighting and protective equipment in Croatia and the region. All the past years, the company has operated positively. Collaborates with more than 6,000 partners. Our customers are almost all professional Fire brigades, and the majority of Volunteer Fire brigades and VZs in Croatia, and increasingly in Bosnia and Herzegovina, Slovenia and Serbia. Among the larger partners are DUZS, MUP-RH, MORH, HVZ, the Office for Emergency Management of the City of Zagreb, Zagreb Airport, and many others.
Unlike many companies for which trade is the only connection with firefighting, "Vatropromet" in cooperation with domestic manufacturers has developed a number of products used in Croatian firefighting: authentic Croatian firefighting helmets of the highest quality (PAB), devices for firefighters competitions, and many others products.
About 200,000 kuna of its profit "Vatropromet" returns to the Croatian Firefighters every year through sponsorships and donations. And not only that, the representatives of "Vatropromet" actively participate in all major gatherings of firefighters in our country. This is certainly one of the reasons why a large number of voluntary and professional fire brigades in Croatia and Bosnia and Herzegovina rely primarily on Vatropromet for the procurement of firefighting equipment.
Vatropromet – always at the service to the Firefighters!