In this article, read some useful tips on cleaning fire personal protective equipment.
Personal firefighting equipment serves to protect the firefighter during the intervention and prevent his injuries. For this reason, it is very important that every firefighter takes care of their protective equipment, regularly checks for any damage and keeps the same equipment clean and disinfected. In this article, we bring a few tips on how to handle and take care of personal fire protection equipment and other equipment.
Proper care and maintenance of firefighting clothing, footwear and other protective equipment is the responsibility of every firefighter and his unit. It is very important for firefighting equipment to provide space for proper storage (storage) while the equipment is not in use.
Review
It is recommended to frequently inspect the equipment for possible damage to clothing, footwear and other protective equipment, especially after demanding interventions. There is a risk of thermal, mechanical and chemical influences during the interventions and that is why it is very important that the composition and quality of the material of your clothes and footwear remain unchanged.
Every firefighter should be familiar with their clothing and footwear. This feeling helps the firefighter to raise and maintain a sense of consciousness, when some changes occur that could affect the performance of protective clothing and footwear. Equipment should be inspected after each intervention to make sure there are no defects. Some damage will be as obvious as external ones. Due to the exposure of the suit at high temperature, a change (loss) of color is possible. Cracks, punctures or open seams are an obvious sign of wear and tear and such clothing is best removed from everyday use if repair is not possible. Below are tables that recommend routine inspection and advanced inspection.
Routine inspection
Perform a routine inspection of clothing after each use. Search:
Dirt
Contamination
Physical damage
Lining damage
Damage to fasteners and fasteners (seams)
Advanced Inspection
Have an inspection at least every 12 months or whenever routine checkups indicate a problem. Advanced review areas include:
Moisture protection and seam sealing
Coat / pants overlap
Integrity of seams, including broken or missing seams
Material integrity due to loss of strength, UV or chemical exposure
Loss or movement of thermal lining material
Integrity and functionality of the sleeve bracelet
Reflective strips and velcro strips, fastening and functionality
Label integrity and readability
Closing system functionality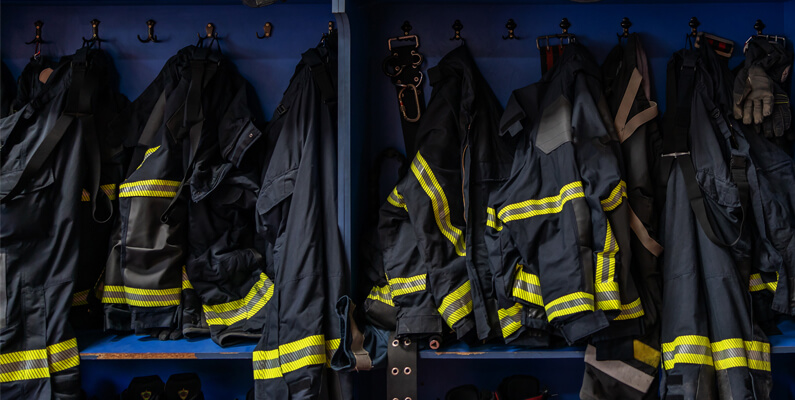 Cleaning
Firefighter protective suit and other clothes must be kept clean to ensure its proper effects. Dirty equipment carries less insulation, is more likely to conduct heat and electricity, has no liquid ejection properties, and can become potentially flammable. Moreover, many fire particles are carcinogenic and contain toxic chemicals to the skin. Intervention clothing needs to be cleaned regularly to prevent these problems. However, improper cleaning can also ruin clothing or impair its protective effectiveness.
There are three types of cleaning: routine, advanced, and specialized cleaning. Routine cleaning is carried out after each use of the suit, where soiling has occurred. It includes brushing dirt from clothes, rinsing with water and, if necessary, cleaning a specific area on the equipment. It would be good to inspect the condition of the clothes during routine cleaning. Advanced cleaning is more thorough and must be done at least every six months or more often, depending on the use and condition of the clothing. Advanced cleaning includes hand washing clothes or washing in the washing machine.
In both cases, follow the instructions from the equipment manufacturer. The basic procedures and conditions for cleaning clothes are shown in the following tables.
Routine cleaning
Take the following steps after each use:
Clean up debris
Rinse with water
Gently rub the object with a soft brush, if necessary
Clear specific points, if necessary
Review the item
Clean again if necessary
Advanced cleaning
Subject your clothes to a more thorough cleaning at least every six months; general precautions include:
Check and review the manufacturer's label
Do not use chlorine bleach or chlorine solvents
Use cleaning solutions with a pH range of at least 6.0 and no more than 10.5
Do not use a high-power jet directly on clothing, such as high-pressure washers, etc.
Clean and decontaminate protective kits separately from non-protective items
We hope we have helped you at least a little with this advice on maintaining personal protective equipment for firefighters and raising awareness of the need to maintain it. Equipment maintenance is important because it is the only way to extend its life, increase safety at interventions and protect your health and life.