More than half of the employees are firefighters
The largest stock of firefighting equipment in Croatia
More than 25 years on service to the Firefighters

Portable fire pump Black Panther 4
Lightweight and robust portable motor pump designed for rapid intervention in forest fires, 26.2 bar, 370 l/min.
About product
Lightweight and robust portable motor pump designed for rapid intervention in forest fires, equipped with a 4-stage centrifugal pump and a 2-stroke Polini engine. This powerful combination allows to maintain high pressures working at high altitude mountainous areas and for long distances. The BP4 is designed with the utmost rigor to satisfy firefighters in the most extreme situations.
High quality components and spare parts availability.
With the best value-money balance.
1 year warranty.
Applications
Attack line firefighting.
Long hose lay for remote watering during firefighting operations.
High elevation firefighting in mountainous areas.
Accuracy in flow trajectory when structure fire fighting.
Tandem pumping over long distances.
Parallel pumping for higher volumes.
Characteristics
Extremely light and resistant.
Portable and compact.
Constructed of aluminum alloy.
Electronic automatic stop that protects the pump in case of overspeed due to loss of prime in the pump.
Removable pump with quick release clamp.
Foam compatible pump.
Ergonomic structure for comfortable transport.
Transport option with vft hose backpack.
Protections on the exhaust and motor cylinder to protect the user against burns.
Intuitive user interface via LED indicator panel and built-in Hour / Rpm tachometer.
Centrifugal 4 stage Pump (VFT4SP)
The VFT4SP is a compact, efficient and reliable 4-stage centrifugal pump.
The pump body and impellers are made of aluminum with anti-corrosion treatment. The shaft and other components are made of stainless steel. Incorporates a high quality mechanical seal specifically designed.
*Pump compatible with foam.
VFT4SP Specifications
Suction: 2" NPSH
Impulsion: 1,5" NPSH
Technical specifications
| | |
| --- | --- |
| Engine | Polini Thor 130 |
| Centrifugal pump | VFT4SP 4 stage pump |
| Weight | 22 kg (dry) |
| Dimensions | Length: 53 cm. / Wide: 33 cm. / Height: 37 cm |
| Maximum Pressure | 26,2 bar |
| Maximum Flow | 37 l/min. |
Motor Specification

| | |
| --- | --- |
| Engine | 2 strokes gasoline |
| Displacement | 125 cm3 |
| Refrigeration | Air |
| Starting System | Recoil Starter with backup |
| Carburator | Manual rope starterWallabro WG8 |
| Ignition | Electronic |
| Dry Weight | 12,5 kg |
| Consumption | 3,6 L/h |
BP4 Performance
Pressure
Flow
Bar
Psi
l/min.
U.S. GPM
15
217.55
180
47.5
10
145
245
65
5
72.51
325
85.9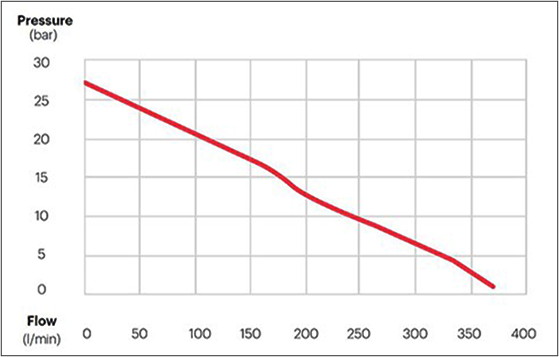 Frequently Asked Questions
Send a product inquiry
How can I send a product inquiry?
You can send an inquiry about each product by filling out an inquiry form next to the product. The inquiry form can be found below the product description and technical specifications in the menu entitled "Send product inquiry". Clicking on the + sign opens a query form in which you fill in the information we ask of you as a customer. In the "Message" field you can write additional information that interests you and simply send an inquiry by clicking the mouse on the "Send" field.
By doing so, your inquiry was sent to our e-mail address and our commercial clerks will answer you as soon as possible.
Send inquiries for multiple products
How to send an inquiry for more products?
If you have a list of equipment that contains more than one product, send us an inquiry by placing all the products in the cart first. Next to each product photo, below the title and a brief description of the product, there is a menu for putting more products in the cart. You can also select the desired amount of the same product before placing it in the cart.
Once you have selected the appropriate quantity, click on the "Add to cart" field with the mouse. A window will appear in the upper right corner of your screen where you will see the message "Successfully added to cart". By doing so, you have placed the product in the cart and you can continue to select other products in our Web catalog.
When you have gathered all the products in the cart for which you want to send an inquiry, at the main menu (upper right corner of your screen) click on the field called "Cart". You can also see the number of products you have placed in your cart. In the cart, you can additionally change the quantities of products or remove a product that you do not need.
You send an inquiry for an offer by filling in the information we ask of you as a customer in the inquiry form. In the "Message" field you can write additional information that interests you and simply send an inquiry by clicking the mouse on the "Send" field.
Payment methods
How can I pay for the product?
You can pay for the products from our Web catalog after receiving an offer from our sales department. Our offer contains all the necessary information for payment: product price (excluding VAT), invoice number for payment and company name and address. You can pay for the offer via internet banking or a general payment slip at the nearest post office.
Retail
In our sales centers you can buy and pick up the product yourself. We offer you methods of payment by card (Maestro or Visa) and cash payment.
Product delivery
Delivery and delivery of products?
You can pick up all our products yourself in our sales centers throughout the Republic of Croatia: Zagreb, Split, Osijek and Rijeka. For the territory of Bosnia and Herzegovina, you can pick up all the products in the business center in Banja Luka.
We deliver products according to the agreement. Products can be sent to your address as soon as possible via delivery services (GLS, HP Express, Lagermax) or you can arrange transportation yourself. For all listed methods of delivery, additional postage is charged according to the valid price list, the amount of which is stated in advance on the offer with the product.
Delivery of products to your address via delivery services is 2-3 working days, and for islands within 5 - 7 working days. The listed options and delivery deadlines are valid for the territory of the Republic of Croatia, for foreign countries only by agreement.
Product complaint
What if the product has a fail?
If the product you received is having a fail or damaged, please contact us via our e-mail address info@vatropromet.hr or call the nearest sales center "Vatropromet" where you placed your order. After reviewing the returned product, we will notify you of further steps.
Can the product be replaced?
Product replacement is possible for all products within 14 working days of receipt of the shipment. The product replacement request must be sent together with the product to the address from which you received the shipment (listed on the shipment).